Posted:
March 12th, 2010 |
Filed under:
cocaine
,
drugs
|
6 Comments »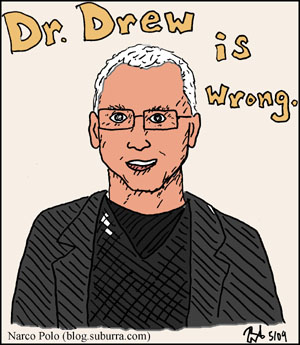 Dr. Drew Pinsky frequently enjoyed cocaine while working at the LA radio station, KROQ, in the early 1980s. This was asserted by two of his former KROQ co-workers earlier this year in this article, "Dr. Drew's Drug Shocker!". This allegation is not shocking because at the time cocaine use was commonplace in the LA entertainment industry.
It is also unsurprising that Pinksy would have been like the vast majority of cocaine users who enjoy it for a period and then stop using it. No addiction. No dreaded consequences. Responsible users include our last two presidents, but unlike our last two presidents Pinsky may have lied about his usage.
On the January 12, 2009 Howard Stern Show this interchange occurred:
Howard Stern: Were you ever a user of drugs?

Drew Pinsky: No.

Howard Stern: Never? Never tried pot? Nothing?

Drew Pinsky: Thank god it's not in me. It doesn't seem like anyway. I'm thinking – not good.

Robin Quivers: Do you feel you can't really relate because you don't have any experience?

Drew Pinsky: No. I can. In fact people in recovery always tell me that it is weird how much I understand it. They don't understand how a non-recovery person has such a deep appreciation of this condition. I don't know. It's like the right side of my brain is overdeveloped and I can just tune into that.
Dr. Drew has not addressed the KROQ allegation. The fact that the most celebrated addiction doctor in America may have lied about his cocaine use will pass unnoticed. Dishonesty has always been an approved strategy in the war on drugs.
Prior Post on Dr. Drew Pinsky: Dr. Drew Is Wrong
Sources:
1. "Dr. Drew's Drug Shocker!" LifeandStyleMag.com, 13 Jan. 2010. LINK
2. Gary Dell'Abate, The Howard Stern Show, Sirius XM Radio, 12 Jan. 2009.
---