Posted:
May 17th, 2009 |
Filed under:
alcohol
,
cocaine
,
drugs
,
heroin
,
media bias
,
opiates
,
tobacco
|
23 Comments »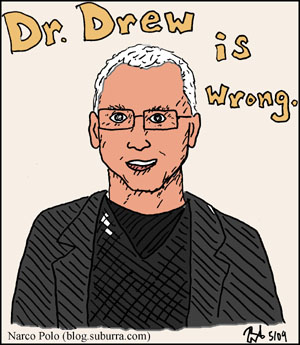 Dr. Drew Pinsky is a celebrity doctor who has doled out medical advice on the radio for over 25 years. He is now a media franchise and has become the nation's popular expert on addiction with his television shows Celebrity Rehab and Sober House. Unfortunately, several of his proclamations are wrong.
Willpower Does Work
Pinsky is a champion of the disease theory of addiction. In his words, "Addicts have intense neurobiological patterns in the brain that have a grip on them, and willpower doesn't work." (Hochman)
Studies have found the legal drug nicotine to be the most addictive substance. Yet roughly half of those who have ever smoked have quit without treatment. The percentage of former heroin, cocaine, and alcohol addicts who have quit without professional assistance is even higher. (Peele, p. 1)
As Dr. Stanton Peele, an addiction expert, explains, "an enormous treatment/recovery industry, backed by a large government bureaucracy" insists on perpetuating the myth that curing addiction cannot possibly take any route but their own. (Peele, p. 2)
The Damage Dr. Drew Causes
"Disease" centered treatment helps many people, however, by damning any other route to stability Dr. Drew does a great disservice. A 1996 study that tracked subjects in outpatient alcohol treatment found that "belief in the disease model of alcoholism" was one of two primary factors in predicting relapse. (Peele, p. 38)
This is common sense. If you brow beat someone into thinking they are a life-long addict with no will power is it surprising that they are more likely to behave like someone with no willpower?
Dr. Drew and Artie Lange
The addiction theory is an attractive concept to addicts as it excuses their actions and frees them from responsibility. But one addict who is not buying it is Artie Lange of The Howard Stern Show. (Read post about Lange's addiction here.) On a Pinsky appearance on The Howard Stern Show (1/12/09) Pinsky said of Lange, "You have to see Artie as a heroin addict. Everything's bullshit." Lange responded re Pinsky's rehab shows, "You wanna be famous and you're exploiting people to get there." Later adding, "[Pinsky's] taking advantage of the biggest fuck ups in LA right now …. They're not getting proper treatment."
Lange has recently devised a new program for himself to stay off heroin which involves exercise and keeping two ex-cops by his side. Dr. Drew called Lange's plans "self-will run riot" and said that as long as Lange is calling the shots for himself he will fail. Dr. Drew said Lange needs a six-month spiritual program of recovery and that his life depends on it. (Dell'Abate, 5/7/09) Lange was infuriated about this damnation and questioned Pinsky's motives revealing that Lange had been offered $250,000 to do three weeks on Pinsky's show, Celebrity Rehab.
Other Dr. Drew Myths
"Heroin addiction has a worse prognosis than cancer." (Dell'Abate, 1/12/09) – A study of heroin users found the annual death rate to be 1%. Taken out of the criminalized context, in a three year heroin maintenance program with over 1,000 patients no one died.
"One out of ten heroin addicts beat it." (Dell'Abate, 1/12/09) – I do not know Pinsky's source but drug abuse studies are almost always skewed in that they focus on people in treatment. (Imagine how alcohol would be portrayed if all media and research coverage was of those in rehab.) One study that was drawn from a more general population of users was that of heroin addicts returning from Vietnam. Very few received treatment, and yet after leaving Vietnam only 12% continued to be addicted. (This cannot be attributed to availability as six in ten of those addicted in Vietnam used a narcotic after returning.) The relapse rate was actually higher for veterans who were treated for their addiction than those who were not.
If my kids ever did heroin I would load up their car with heroin and call the cops. (Dell'Abate, 1/12/09) – This claim led Lange to call Pinsky a "bullshitter." I too question whether Pinsky would want his son to be imprisoned for years as a dealer and burdened with a criminal record so that every future employer would know about it. (How would George W. Bush and Barack Obama turned out if their relatives took the same tact with their cocaine use? LINK) As a public defender I saw many people who viewed drug use as a criminal matter quickly change their minds when their loved one was the one facing prison time.
"That part of the body wasn't made for doing [anal sex], and I dread to see what will happen to these women down the line …. it won't be pretty." (Hochman) – According to Dr. Jack Morin, an expert in anal health, there is "no convincing evidence" that safe and responsible anal sex causes disease. (Morin, p. 223) In addition, the sphincter is a muscle and stretching it is no more damaging than stretching exercises are to any other muscles in the body.
More recent post on Dr. Drew Pinsky: Did Dr. Drew Lie About His Drug Use?
Sources:
Robert Arthur, You Will Die: The Burden of Modern Taboos (2008).
Gary Dell'Abate, The Howard Stern Show, Sirius XM Radio.
David Hochman, "Playboy Interview: Dr. Drew Pinsky," Playboy, 1 July 2008.
Jack Morin, Anal Pleasure and Health (1998).
Stanton Peele, Seven Tools to Beat Addiction (2004).
---