Winner of the 2008
Montaigne Medal
awarded for most thought-provoking independent book.
"... ya gotta fight back against the Sarah Palin 'idiot herd' with something."
Wayne Coyne, Lead Singer, The Flaming Lips
"... one of my favorite books ..."
Mark Frauenfelder, Editor, Boing Boing
"... fascinating, powerful book ..."
Chester Brown, Graphic Novelist and Author of Louis Riel
"This book is a MUST READ! I loved it."
Dr. Mark Benn, Psychologist, Colorado State University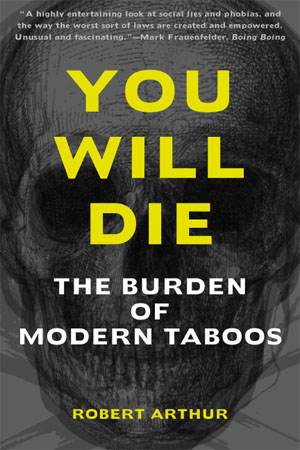 A book that vigorously defends heroin users and sex workers?

You Will Die: The Burden of Modern Taboos

does that and more to demonstrate that taboos are not relics of primitive societies. America has its own ridiculous phobias and beliefs that cause boredom, suffering, and death. The government and the media use our taboos to lie and mislead. It is not a conspiracy, but by pushing panic for votes and viewers they thwart our pursuit of happiness.



You Will Die

exposes the fallacies and the history behind our taboos on excrement, sex, drugs, and death. It uses racy readability and rigorous documentation to raze sacred shrines of political correctness on the left and of conventional wisdom on the right. From the proper way to defecate to how to reach nirvana, anticipate the unexpected. It is not simply a novel exploration of sex and drugs, but also of individuality, liberty, and the meaning of life.

You Will Die

gives readers a new way of seeing their world and allows them to make a more informed choice about living an authentic life.
ORDER
You Will Die: The Burden of Modern Taboos
is being released by Feral House on January 1, 2013. The Feral House edition is updated, revised, and contains a new chapter on the taboo of death. Please note that contrary to its current description on the following retail sites the Feral House edition will
not
have the author's illustrations that were in earlier editions:



The third edition of
You Will Die: The Burden of Modern Taboos
is out of print. It contains over 150 illustrations by the author. Used copies of the third edition can be purchased at Amazon.com:

"Robert Arthur has given us a fascinating analysis of how we set rules for human behavior. His thoroughly researched history of taboos is by turns enlightening, funny and horrifying."
Mike Gray, Chairman of Common Sense for Drug Policy and Author of
Drug Crazy
"Given a decent promotional campaign, this book has what it takes to top

The New York Times

bestseller list for months .... This book about taboos is itself taboo; no major American publisher would touch it with a ten-foot pole."
Robert Gover,

New York Times

Best-Selling Author
"This is a sensational book .... It's explosive and amazingly informative .... You will not be able to read this book without being amazed ...."
Dennis Littrell, Amazon.com Top 50 Reviewer and Author (Putnam Publishing)
"It'll piss you off in the best way possible, like Fahrenheit 9/11 or Religulous. I can't recommend it highly enough."
Gillian Cromwell, Visual Bookshelf on Facebook
"Probably the most enlightening, eye-opening book I have ever read."
John Bouhan, Visual Bookshelf on Facebook
"Best book ever."
Robert V. Worrall, Amazon.com



Feedback and constructive criticism are welcome.
rob@suburra.com