Posted:
June 4th, 2012 |
Filed under:
bath salts
,
cocaine
,
drugs
,
hallucinogens
,
LSD
,
marijuana
,
media bias
|
5 Comments »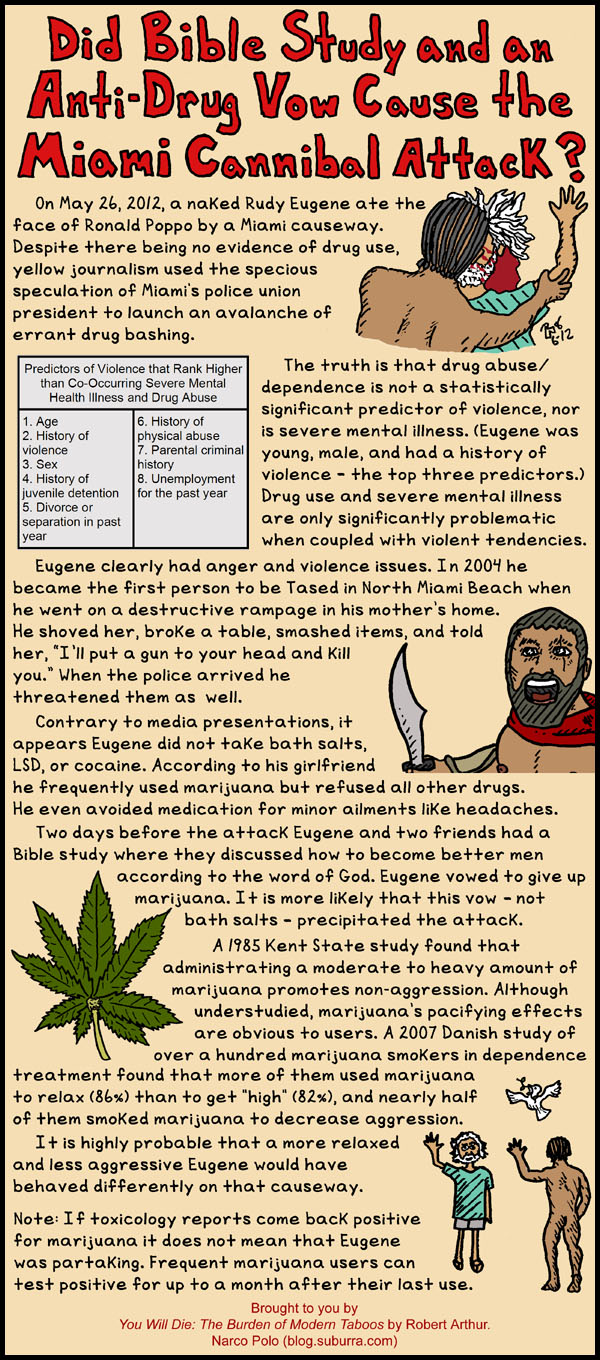 (For more information on bath salts read "Doctor Tried Bath Salts and Liked It: In Defense of Bath Salts," or learn about the "Legal Drug Linked to More Cannibalism than Bath Salts.")
On May 26, 2012, a naked Rudy Eugene ate the face of Ronald Poppo by a Miami causeway. Despite there being no evidence of drug use, yellow journalism used the specious speculation of Miami's police union president to launch an avalanche of errant drug bashing.
The truth is that drug abuse/dependence is not a statistically significant predictor of violence, nor is severe mental illness. (Eugene was young, male, and had a history of violence – the top three predictors.) Drug use and severe mental illness are only significantly problematic when coupled with violent tendencies. (2,5)
Eugene clearly had anger and violence issues. In 2004 he became the first person to be Tased in North Miami Beach when he went on a destructive rampage in his mother's home. He shoved her, broke a table, smashed items, and told her, "I'll put a gun to your head and kill you." When the police arrived he threatened them as well. (3)
Contrary to media presentations, it appears Eugene did not take bath salts, LSD, or cocaine. According to his girlfriend he frequently used marijuana but refused all other drugs. He even avoided medication for minor ailments like headaches.
Two days before the attack Eugene and two friends had a Bible study where they discussed how to become better men according to the word of God. Eugene vowed to give up marijuana. It is more likely that this vow – not bath salts – precipitated the attack.
A 1985 Kent State study found that administrating a moderate to heavy amount of marijuana promotes non-aggression. (4) Although understudied, marijuana's pacifying effects are obvious to users. A 2007 Danish study of over a hundred marijuana smokers in dependence treatment found that more of them used marijuana to relax (86%) than to get "high" (82%), and nearly half of them smoked marijuana to decrease aggression. (1)
It is highly probable that a more relaxed and less aggressive Eugene would have behaved differently on that causeway.
Note: If toxicology reports come back positive for marijuana it does not mean that Eugene was partaking. Heavy marijuana users can test positive for marijuana for up to a month after their last use.
Tip of the Hat
I salute the following journalists for writing articles criticizing the fallacious and narcophobic coverage of the Causeway Cannibal:
1. Kristen Gwynne, "Dumb and Dangerous Anti-Drug Propaganda in the Miami Zombie Story," AlterNet.org. 31 May 2012. LINK
2. Jacob Sullum, "If You Use Drugs, You Might End Up Eating Someone's Face," Reason.com, 29 May 2012. LINK
3. Maia Szalavitz, "Why Drugs Are Getting a Bum Rap in the Miami Face-Eating Attack," Time.com, 30 May 2012. LINK
Addendum (June 28, 2012) – The full toxicology report of Rudy Eugene released on June 27, 2012 reported that the only drug found in his body was marijuana. The common chemicals in drugs sold as bath salts were absent. LINK
Sources
1. Mikkel Arendt, et al., "Testing the Self-Medication Hypothesis of Depression and Aggression ….," Psychol. Med., 2007, 37.
2. Eric Elbogen & Sally Johnson, "Intricate Link Between Violence and Mental Disorder," Arch. Gen. Psychiatry, Feb. 2009.
3. Gus Garcia-Roberts, "Rudy Eugene to Mother in 2004 ….," MiamiNewTimes.com, 30 May 2012.
4. Rodney Myerscough & Stuart Taylor, "Effects of Marijuana on Human Physical Aggression," J. Pers. Soc. Psychol., 1985, 49(6).
5. Rick Nauert, "Mental Illness Does Not Predict Violence," PsychCentral.com, 26 Feb. 2009.
---