Posted:
November 9th, 2011 |
Filed under:
drugs
,
history
|
1 Comment »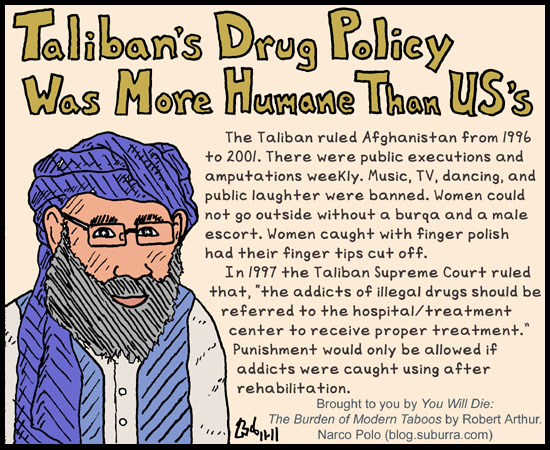 The Taliban ruled Afghanistan from 1996 to 2001. Under its brutal rule there were public executions and amputations weekly. Music, television, dancing, and public laughter were banned.* (2, 3) Women could not go out in public unless they were completely covered with a burqa and escorted by a male relative. Women caught with finger polish had their finger tips cut off.
In 1997 the Taliban Supreme Court ruled that, "the addicts of illegal drugs should be referred to the hospital/treatment center to receive proper treatment. If an addict after receiving treatment and being rehabilitated restarts using drugs, in this case he will be entitled for receiving punishment [sic]." (2)
In practice, the Taliban's edict was not effective as Afghanistan had almost no rehabilitative services at the time. Nonetheless, the fact that the Taliban's extremist leaders expressed more humanity than the United States federal government on this issue is remarkable.
* There were loopholes. For example, religious songs without instrumentation were allowed, as well as patriotic chants such as "Taliban, O Taliban, you're creating facilities, you're defeating enemies." (1)
Sources
1. Nadya Labi, "Rhythmless Nation," Time.com, 15 Sep. 2001. LINK
2. David Macdonald, Drugs in Afghanistan: Opium, Outlaws, and Scorpion Tales (2007), pp. 47-50.
3. Physicians for Human Rights, "The Taliban's War on Women," 1998. LINK (PDF)
---