Posted:
August 7th, 2011 |
Filed under:
gambling
|
5 Comments »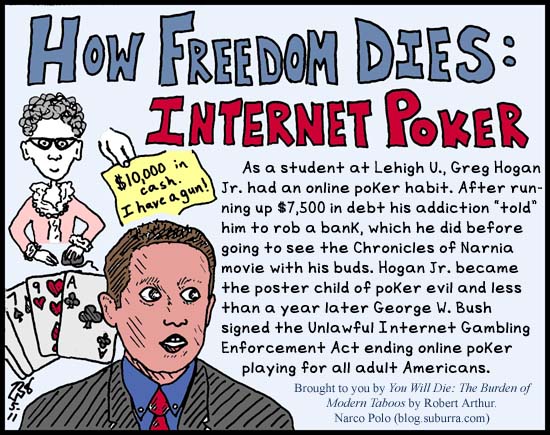 In the early '00s I lived next door to a retired elderly woman in a quiet town outside of Harrisburg, Pennsylvania. Every evening she enjoyed playing poker online. As it did for millions of others, online poker gave her pleasure. Of course, elderly women finding happiness in their final days have never been the face of internet gambling. In 2006 that face belonged to Greg Hogan Jr.
Aspiring Mogul Will Write History
The New York Times article that introduced Hogan Jr. to the world presented him as an angelic son of a Baptist minister and a nurse. A virtuoso pianist, Hogan Jr., "was like a boat on a still pond – one small push from his parents and he'd glide on toward the goal." (10) He was also an ambitious Young Republican who revered Reaganomics and wanted to become a financial mogul. His senior yearbook quote was, "History will be kind to me, for I intend to write it." (1)
On his first day at Lehigh University in Bethlehem, Pennsylvania, Hogan Jr. decided to run for class president. At Lehigh he would attain that goal, but he would also be introduced to poker. Hogan Jr. met a fellow student who had lost $100 playing on the internet and another student who won over $150,000. Undeterred by the loser, Hogan Jr. opened an online account with $75. As the New York Times author wrote chillingly, "the effect [of playing] was paralyzing, narcotic."
Poker is a game of skill (9), and the golden boy from the Cleveland suburbs turned out to be a horrible player with no discipline. Not only was he going to write history but he was also going to write new rules for poker, "I practiced by playing, but I really didn't do my homework. I didn't read books on how to play. I was going to develop my own style, play my own way. I was arrogant." (1)
He kept losing and kept adding to his account. Even though his parents took away his house computers, put anti-gambling site software on his school computer, and forced him to attend Gamblers Anonymous it was too late. As one journalist wrote, "Greg Jr. wanted to obey his father, but by then he was captive to his addiction." (1) He soon had gone through $7,500 from loans from friends, book money for school, and summer earnings. The figure would have been even higher if his parents had not thwarted him from duping his grandma into giving him $1,000 for an "orchestra trip."
That's Really Stupid, Son
When scapegoating, sensationalism, and morality combine, all it takes is one person to do something preposterously stupid for politicians to outlaw an activity for everyone. For internet gambling this person would be Greg Hogan Jr. On December 9, 2005, Lehigh University Sophomore Class President Greg Hogan Jr. went to see The Chronicles of Narnia movie with Vice President Matt Montgomery and Senate President Kip Wallen. Beforehand Wallen dropped Hogan Jr. off at a Wachovia bank in his black Ford Explorer. Hogan Jr. went in and handed a note to a cashier that read, "I want $10,000 in cash. I have a gun! Be quiet and quick, or I will shoot. No bait." (1) The cashier understandably gave him a look of "seriously?" but he told her it was real so she gave him $2,871.
Hogan Jr. went back out to the Explorer and drove off for the movie and a pizza. Later that day his fraternity house, Sigma Phi Epsilon, was raided by police but he wasn't present so they arrested him at orchestra practice. Hogan Jr.'s breathtakingly asinine act would turn him into a celebrity. His lawyer was fielding calls from shows such as Oprah and Good Morning America. He would get a full article in the New York Times.
The Addiction Told Me To Rob A Bank
Evangelical Christians led the first charge to criminalize gambling in America in the 1820s, and it was the Baptists, Gary Hogan Jr. and Gary Hogan Sr., that would lead conservative Christians to internet victory in the 2000s. There would be three ingredients:
1. Scapegoating – On Good Morning America Hogan Jr. said of his crime, "Basically, the addiction told me to do it." (4)
2. Sensationalism – Hogan Sr. testified before the Financial Services Committee of the House of Representatives that allowing any type of online gambling would be like letting kids play Russian Roulette. He closed by saying "Some dads do not know where their children are today, and other dads have had to bury them because Internet Gambling left them only with the choice of suicide." (6)
3. Morality – If you question whether morality plays a part in how this unfolded, imagine the reaction if one of the thousands of teenagers who run up similarly high credit card debts via irresponsible shopping did this. Would anybody call for credit cards to be criminalized for everyone? The mothers of two Oklahoma college students who committed suicide because of their credit card debts could not even get Oklahoma legislators to limit on-campus credit card solicitations. (5)
Hogan Jr. robbed a bank on December 9, 2005. The Unlawful Internet Gambling Enforcement Act was signed by President George W. Bush on October 13, 2006.
Hypocrisy:
In 2010 in Bethlehem, Pennsylvania, the same town of Hogan Jr.'s robbery, a woman was charged with stealing $68,500 from her employer "to fuel her addiction to scratch-off lottery tickets." (7) There was no response by Congress to outlaw state-run lotteries.
Note: The amount of money online poker sites take from players (the rake) is usually around 1-5% of the money played. (11) The amount of money state-run lotteries took from players in 2006 was 35% of the money played. (8)
Costly Hypocrisy:
America's hypocrisy of allowing domestic online lotteries and horse betting, but not allowing foreign poker sites was found by the World Trade Organization to be in violation of its international trade agreements. Because of this the US had to settle complaints by Japan, Europe, and Canada. The settlements were not made public on the ridiculous basis of "national security interests," but they are believed to be in the tens of billions of dollars. (2)
Non-Sensational End Quotes:
"The overall rate of problem gambling in the UK remained unchanged between 1999 and 2007, despite the rise (and legalization) of Internet wagering." (12)
"The current available evidence suggests that the rate of PG (pathological gambling) has remained relatively stable [in the United States] during the past 35 years despite an unprecedented increase in opportunities and access to gambling." (3)
To learn why go here.
To follow the ongoing follies of America's War on Gambling check out Reason magazine's Gambling page. To join the fight to end this war go to the Poker Players Alliance website.
Sources:
1. Matt Assad, "How Online Gambling Toppled Greg Hogan's World," Morning Call, 17 Aug. 2006. LINK
2. Radley Balko, "Internet Gambling Ban," Reason, 3 Jan. 2008. LINK
3. Steve Chapman, "The Real Effects of Gambling," Reason, 21 July 2011. LINK
4. Chris Cuomo, "Student Says He Was Driven to Crime by Gambling Addiction," Good Morning America, 25 July 2006. LINK
5. Molly Hennessy-Fiske, "Maxed Out," Los Angeles Times, 16 Mar. 2007. LINK
6. Gregory Hogan, "A Father's Journey ….," U.S. House of Representatives, 8 June 2007. LINK
7. Pamela Lehman, "'Destroyed' by Addiction," Morning Call, 28 Apr. 2010. LINK
8. "Lottery Payouts and State Revenue," National Conference of State Legislatures, Dec. 2008. LINK
9. "Poker-Faced," Economist, 19 May 2011. LINK
10. Mattathias Schwartz, "The Hold-'Em Holdup," New York Times, 11 June 2006. LINK
11. Dave Shoelace, "The Perks of Online Poker: Rakeback," Card Player, 30 Nov. 2008. LINK
12. Jacob Sullum, "The Addict's Veto," Reason, 21 Nov. 2007. LINK
---