Posted:
September 21st, 2009 |
Filed under:
drugs
,
marijuana
,
media bias
|
6 Comments »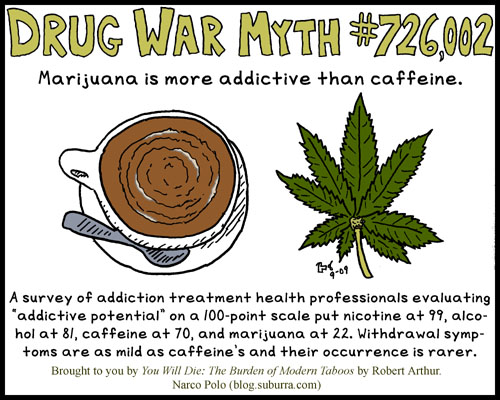 In covering the marijuana legalization debate the mainstream media is prone to comparing marijuana addictiveness to alcohol, cocaine, and heroin. A much more appropriate comparison would be to caffeine. This would provide a better perspective to the media's dramatic portrayals of marijuana "addicts." (See New York Times portrayal of "Joyce" here.)
The health professional survey mentioned above that ranked the inherent addictive potential of numerous drugs on a 100-point scale (nicotine 99, alcohol 81, caffeine 70, and marijuana 22) was taken from Perrine. (p. 7)
The statement that marijuana withdrawal symptoms are as mild as caffeine's and their occurrence is rarer is taken from Gahlinger. (pp. 180, 333)
Most marijuana users – even those with long-term, heavy use – experience no withdrawal when they stop. Some people have reported generally mild symptoms …. (Gahlinger, p. 333)
Thanks to Pete Guither at Drug WarRant for the following posts which alerted me to this issue: "Times Article Buys into Marijuana Addiction Based on Anecdotal Evidence from Idiots" and "ABC News Goes Reefer Madness."
Sources:
1. Paul Gahlinger, Illegal Drugs (2001).
2. Daniel Perrine, Chemistry of Mind-Altering Drugs (1996).
---