Posted:
April 23rd, 2008 |
Filed under:
drugs
,
heroin
,
legalization
,
opiates
|
59 Comments »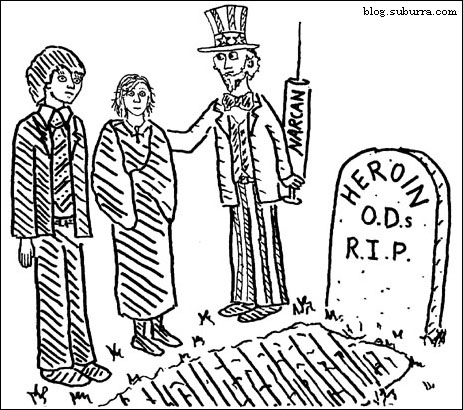 Heroin Kills?
To get people to read my book I employ the common technique of teasers. Teasers for non-fiction books are often facts that will startle the reader and encourage them to find out more. None of my teasers have provoked greater skepticism, scorn, and anger than the statement, "Heroin is harmless."
I am not naive or callous. As a public defender I frequently interviewed heroin addicts upon their incarceration. I saw firsthand these people going through withdrawal and I saw the tragedies their lives had become. However, almost all – if not all – of the damage heroin had inflicted upon these people and their families was due to the drug's criminalization. I will explain.
Three aspects of an ingestible substance that can be considered harmful are (1) its potential to debilitate, (2) its effects on one's health, and (3) its potential to kill via an overdose.
(1) Like the stimulants, caffeine and cocaine, heroin is not a debilitating drug. That is, moderate usage does not interfere with one's functioning, e.g. driving ability. This is in contrast to alcohol, in which one's performance is directly hampered. Extreme usage can interfere just like with caffeine and cocaine, e.g. too much of a stimulant can make it difficult to focus and even cause hallucinations. However, even heroin addicts can moderate their usage so that they can work unimpaired and avoid withdrawal symptoms. For this reason, heroin addicts can and do have successful professional lives in such diverse fields as surgery and law enforcement.
(2) Long-term heroin addiction is relatively harmless to one's health. Like caffeine addicts who "need" their coffee in the morning, the side-effects are minimal. Heroin's long-term side-effects can include constipation and impotency. This is in contrast to alcohol and tobacco which destroy the liver and the lungs respectively.
(3) Like caffeine, it is difficult to fatally overdose on heroin by itself. (It is easy to overdose when using heroin and alcohol in combination.) The popular image of a dead heroin user with the needle still in his or her arm is misleading. A fatal heroin overdose is usually a long process that takes over an hour and it can be countered within minutes by an antidote.
This antidote is Narcan. It is so tightly regulated that strict limits on its usage have caused overdose deaths even when paramedics were present. Narcan is not dangerous or addictive which leads one to believe the government wants heroin users to die. This twisted thesis is reinforced by recent comments made in light of nasally administered Narcan (LINK).
Lastly, heroin withdrawal – unlike alcohol withdrawal – is never fatal.
In many ways heroin is as harmless as caffeine and it is definitely less harmful than alcohol. Heroin has garnered the reputation of the deadliest and most evil of drugs largely due to side-effects from the War on Drugs. To learn the awesome and fascinating reality of it all, read my book, You Will Die: The Burden of Modern Taboos. For more on the safe usage of heroin devoid of moralizing read Dr. Francis Moraes' Heroin User's Handbook. (Moraes is a former heroin addict.)
Sources
Robert Arthur, You Will Die: The Burden of Modern Taboos (2007). LINK
---