Posted:
March 13th, 2008 |
Filed under:
prostitution
|
2 Comments »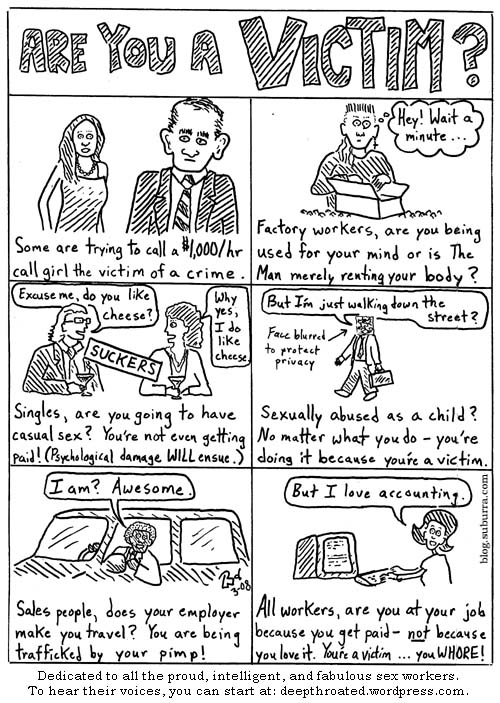 This cartoon was created out of my disgust at an editorial in the New York Times by Melissa Farley and Victor Malarek, "The Myth of the Victimless Crime." LINK For all the reasons presented in the cartoon above, they claimed that all prostitutes are victims – including Eliot Spitzer's high end call girl.
In 2008 my feelings towards those that still believe sex acts by consenting adults require police intervention are the same as those expressed around 1900 by the mayor of Toledo, Ohio, who was exasperated by the inanity of forcing "rehabilitation" and prison on prostitutes:
Why is it constantly necessary to do something to people? If we can't do something for them, when are we going to learn to let them alone? Or must this incessant interference, this meddling, this mauling and manhandling, go on in the world forever and ever?
For a view from the United Kingdom where the religious right and sex-negative feminists have less sway go to the following Guardian article, LINK.
Addendum:
In a New York Times letter to the editor one woman wrote:
In the various political roundtables this week, everyone seemed to agree, at least, on the "victimless crime" argument. I am shocked that the thoughtful, intelligent people (mostly men) on these shows are so comfortable with the idea that a woman would choose to have sex for money.

Do these people know any women? Can they really believe that this is a choice?
Yes, they do know women. Here are postings about Farley's article by women who chose sex work, LINK & LINK.
Sources:
---