Posted:
February 13th, 2008 |
Filed under:
drugs
,
ecstasy
,
media bias
|
50 Comments »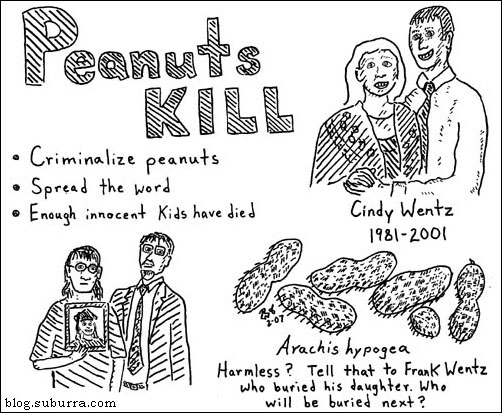 Drug War Logic
This cartoon is based on national news coverage of an ecstasy (MDMA) death in 2002 and the anti-E government ads that followed. E kills roughly 3-9 Americans a year. Peanuts kill roughly 50-100 Americans a year. The death rate of first-time ecstasy users has been estimated by one study to be between .002% to .05%. Comparatively, .1% of Americans are estimated to have a life-threatening peanut allergy.
To read about golfing on E go to this post.
Source
Robert Arthur, You Will Die: The Burden of Modern Taboos (2007). LINK
---