Posted:
November 30th, 2009 |
Filed under:
amphetamine
,
cocaine
,
drugs
,
LSD
,
marijuana
,
media bias
|
4 Comments »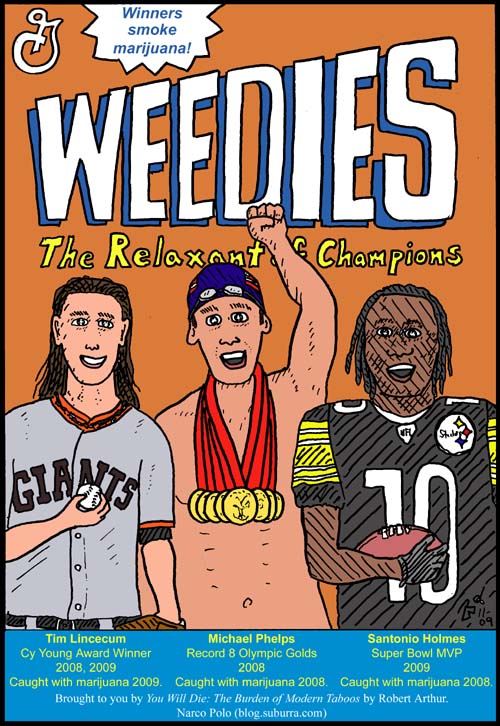 World class athletes have been caught using recreational drugs for years but what makes the recent cases of Tim Lincecum, Michael Phelps, and Santonio Holmes remarkable is that they have been outed at the peak of their careers. In these three instances, law enforcement has helped obliterate the mainstream myth that marijuana smokers cannot be overachievers in amazing physical conditions.
They All Do It
Rob Dibble, an all-star pitcher who played in the late 1980s and early 1990s, estimated that teams he played for varied from 20-60% in marijuana usage rates. In the late 1990s a New York Times investigation estimated the marijuana usage rate of players in the NBA to be at 60-70%. (A figure Josh Howard reasserted in 2008, LINK.)
Of course, the New York Times piece portrayed this as a sign "the party life style associated with the game is spinning out of control." It then interviewed NBA players like Derek Harper who said it was "scary" because you might be playing against a guy on drugs and not know it, and Karl Malone who thought fans had a right to know if the players used recreational drugs and that privacy concerns about testing were ridiculous because, "you have too many knuckleheads out there, too many guys doing crazy things without realizing the consequences."
Those Consequences
There is a strong case that – just like with alcohol – the moderate use of marijuana and other recreational drugs in one's free time has little or no effect on performance. Professional athletics is hyper-competitive. As soon as you lose a step to the countless competitors behind you, you are gone. If marijuana use impeded performance it is doubtful the usage rates would be so high with million dollar salaries at stake.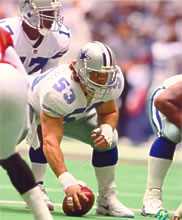 Mark Stepnoski (pictured) played 13 seasons in the NFL as a center winning two Super Bowls and going to five pro bowls. He smoked marijuana throughout his college and professional career saying, "To me it's all about responsibility. There's a time and a place for everything."
Stepnoski, who is now a marijuana legalization activist, has also pointed out his Super Bowl coach, Jimmy Johnson, had a different theory than Karl Malone.
As long as you did your job for him and did it well, he wasn't going to snoop into what you were doing the rest of the time. It wasn't his responsibility to be your parent or your guardian or anything else.
Despite the New York Times dire warning in the late 1990s the NBA is still thriving.
Other Notable Outed Athletes
NFL
Randy Moss (WR) – In high school spent a week in solitary confinement for smoking marijuana. Was kicked out of Florida State for smoking marijuana. Caught with marijuana by law enforcement in 2001. Tested positive for marijuana in the NFL in 2002. Implied was still smoking marijuana in 2005. In 1998 broke rookie NFL record for touchdown catches in a season. In 2007 broke NFL record for touchdown catches in a season.
Others: Kevin Faulk (caught at a Lil Wayne concert with marijuana in 2008), Percy Harvin, Michael Irvin, Curtis Johnson, Marshawn Lynch, Mario Manningham, Amobi Okoye, Lawrence Taylor, Ricky Williams
Link to a dozen NFL players caught with possession since 2008.
NBA
Kareem Abdul Jabbar (C) – In his 20 year career he scored more points than anyone else in the history of the game. Won six MVP awards and six NBA championships. Has been caught with marijuana by law enforcement twice, in 1998 and 2000.
Others: Carmelo Anthony, Mookie Blaylock, Marcus Camby, Josh Howard, Allen Iverson, LeBron James, Shawn Kemp, Vernon Maxwell, Lamar Odom, Robert Parish, Isaiah Rider, Damon Stoudamire, Rasheed Wallace, Chris Webber
MLB
Ferguson Jenkins (P) – Eighteen year veteran won the Cy Young Award in 1971. Was caught with cocaine and marijuana in 1980 and retired in 1983.
Joe Pepitone (OF) – Three time all-star and Gold Glove winner Pepitone wrote in his 1975 memoir that he once shared a joint with Mickey Mantle before a spring training game. Mantle had never had marijuana before. He struck out four times in that game and spent much of his time in the dugout giggling. He told Pepitone, "I don't know what that shit is, but keep it away from me."
Others: Dock Ellis, Dwight Gooden, Keith Hernandez (testified that in the early 1980s 40% of MLB players used cocaine), Steve Howe, Paul Molitor, Otis Nixon, Dave Parker, Tim Raines (confessed to sliding into bases head first to avoid breaking the vial of cocaine he kept in his back pocket), Darryl Strawberry, Willie Wilson
Note: Much of the baseball outing in the 1980s stemmed from the Pittsburgh drug trials in which the legendary Willie Stargell was accused of distributing amphetamines by two players on the stand.
Fastest Man In the World
Usain Bolt – In 2009 admitted to smoking marijuana as a kid. LINK
Links of Note:
In 1970 Dock Ellis pitched a no-hitter while on LSD. (Less than 300 have been thrown in Major League Baseball history since 1875.) Here is a great animated short set to him recounting the tale. (Thanks to Chip for tip.)
Hall of Fame baseball player Mike Schmidt discussing how amphetamines, "greenies," were readily available in baseball clubhouses during his career (1972-1989) – LINK.
Sources:
1. "Outside the Lines: Marijuana in Sports," ESPN, 24 Feb. 2003. LINK
2. Albert Theodore Powers, The Business of Baseball (2003).
3. Selena Roberts, "Marijuana and Pro Basketball," New York Times, 26 Oct. 1997. LINK
---