Posted:
March 31st, 2008 |
Filed under:
Iraq War
|
Comments Off

on Dick Cheney Could Kick Your Ass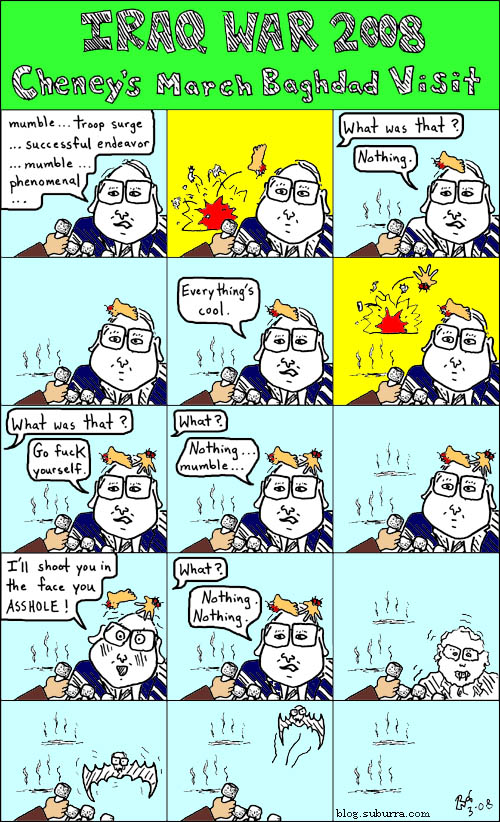 On March 17, 2008, Vice President Dick Cheney visited Baghdad. He was promptly greeted by a car bomb that rocked Baghdad and injured three people. Before the end of the day a suicide bomber killed at least 40 people in the neighboring city of Karbala, two American soldiers were killed by a roadside bomb north of Baghdad, and an exploding mortar shell killed five people on a Baghdad soccer field. Cheney used his visit to announce that the troop surge had accomplished "phenomenal changes" and that the US invasion was a "successful endeavor."
Cheney has shown he is not above crass language in public. He agreed with President George W. Bush at a 2000 campaign event that New York Times reporter, Adam Clymer, was a "big time" asshole and on the floor of the US Senate in 2004 he told Senator Patrick Leahy to "fuck himself."
And yes, he shot his friend in the face.
Sources
Helen Dewar & Dana Milbank, "Cheney Dismisses Critic With Obscenity," Washington Post, 25 June 2004. LINK
Liz Sly, "Iraq Violence Greets McCain, Cheney," Chicago Tribune, 18 Mar. 2008. LINK
Jake Tapper, "A 'Major League Asshole,'" Salon.com, 4 Sep. 2000. LINK
---