Posted:
October 24th, 2007 |
Filed under:
You Will Die
|
Comments Off

on My Book Received Five Orgasms Out of Five
You Will Die received its inaugural online review courtesy of Shasta Gibson at her blog, Stiletto Diaries. I met Gibson last year when I e-mailed her a request to read and give feedback on You Will Die's first version. She did. For taking the time to read an unpublished tome by a random stranger I drew her into a book illustration with the grim reaper (below).
Gibson gave You Will Die five orgasms out of five. Gibson usually reviews sex toys on her blog and I am proud to say my book received more orgasms than another October subject, the Fukuoku Five Finger Fantasy Massage Glove.
In addition to reviews, Stiletto Diaries details the life of a young housewife who balances raising two kids with her strong sex drive and the practice of polyamory. I recommend that single men read her review of the Fleshlight.
Links: Stiletto Diaries, You Will Die review, Fukuoku Five Finger Fantasy Massage Glove review, Fleshlight review.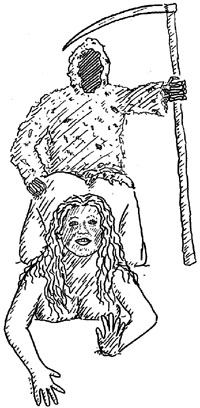 ---